An English teacher in rural New Hampshire once guided a high school student named Anna Nolin on her road to academic success. Now, that student goes by Dr. Nolin and hopes to pay that help forward as Newton's new superintendent.
"I think we just have to get back to what public schools are for. Every kid in every family should have their American dreams," Nolin said. "And just like with my story, public schools are the way."
A teacher's help
Nolin grew up in Gorham, N.H., a small town along the Androscoggin River about 70 miles from the Canadian border, the oldest of nine daughters.
"My family was pretty traditional in a lot of ways," she said. "So when it came time for high school—I was a good student and loved school—and for my dad, it wasn't really in his mindset for us to go to college."
Some of that had to do with gender roles, Nolin said, and it was also a financial decision.
"The cost of college was sort of mind-boggling to him—He worked for the phone company," Nolin said. "So it was sort of off the table."
But Nolin's high school English teacher, who had also been her father's basketball coach years earlier, saw potential in her and helped her make it happen. He helped her prepare for the SATs, he helped pay for her college applications and he drove her to college interviews.
"And then he kind of took on my dad and my mom and was like, 'She's got the juice to do this,'" Nolin recalled. And that "juice" got her into Middlebury College in Vermont and then Harvard for her master's degree in human development and psychology, and she would later complete professional training programs at both Boston University and Boston College.
"To be fair to my dad, though, after I got into Harvard, he was so emotional about it. He was like, 'I just didn't know our people could do stuff like this," she continued. "So then he paid for all my other sisters to go.
Getting to work
Nolin started her career teaching middle school English and theater in Framingham public schools. After seven years in that district, she was an adjunct professor at Framingham State College.
Nolin worked in the Natick public school system for 20 years, starting as a vice principal and then principal of Wilson Middle School. She was named assistant superintendent in 2013 and superintendent of the district in 2018.
And this year, after Newton Superintendent David Fleischman left the district, Nolin saw a chance to work in a city she'd had her eye on for a while.
"I was really impressed with the forward thinking of the district," she said "For example, back in the early-2000s, this district was doing things for social-emotional learning that many districts didn't do until the pandemic."
So Nolin went for the job and went through the vetting and interview process, and the Newton School Committee unanimously voted in February to name her as Newton's next superintendent, starting July 1.
Newton has a hefty list of needs for its schools. Enrollment has dropped. There was talk of closing two elementary schools. Teachers are about to start a "work to rule" action because contract negotiations with the School Committee have hit an impasse. And that's just the start.
"I think I've really tried to devote time to developing high-functioning teams, and I think that is one of the reasons I wanted to come to Newton—that diversity of thought and resources and people is really interesting to me," Nolin said. "If we can do some deep, positive collaborative work here, I think we've really figured out for the nation."
Eyes wide open
Enrollment in Newton's public schools is just below 12,000, and that's actually higher than it was a generation ago because enrollment has been on a decline for years, following population trends seen nationwide. But that drop-off has been more pronounced in Newton, suggesting parents have been pulling their kids out of the schools and seeking private school education, and many think the COVID-19 pandemic drove away more families as the virus threw schools into chaos.
"I'm going into it with my eyes wide open. I did lead a district during the pandemic, and it was super, super challenging but I thought we were very successful," Nolin said. "This district [Newton] had a harder road in many ways, due to its size and that diversity of thought, which I just said I appreciated, making things more difficult at times."
Nolin said she believes COVID-19 and the policies and battles it brought to the schools may have driven families away from public education, and she plans to address that and talk with parents, teachers and other community members about how to keep the community's trust going forward.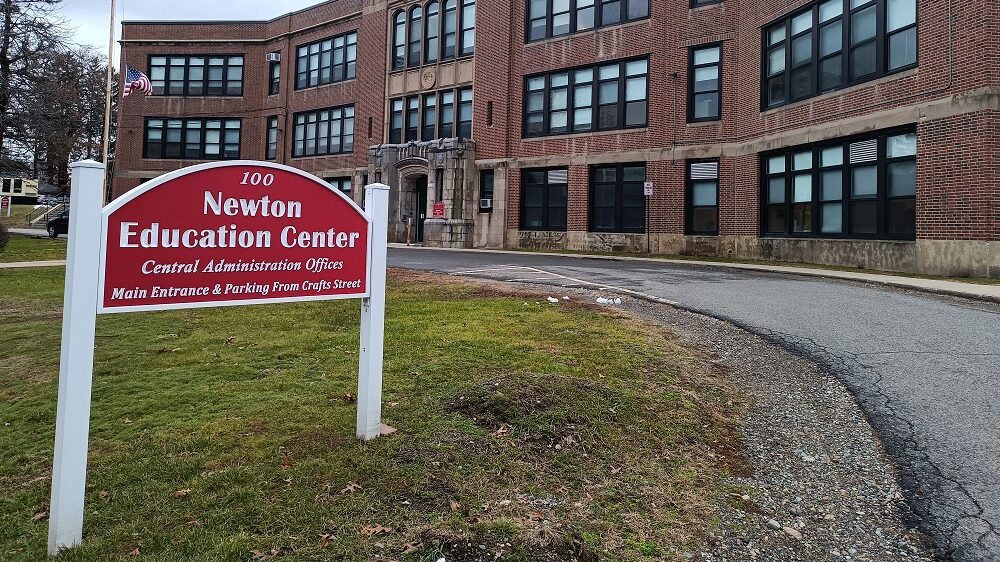 Nolin added that as the city heals from the pandemic, she knows that people lost family members, jobs and time in school, and feelings are raw in Newton.
"A lot of trust was broken, for whatever reasons, during the pandemic. It's no one's fault, per se, but it is where we are," Nolin said. "Whether it's trust with government or trust with schools, the kids and the parents are right in that soup—that lack of trust and fear. 'Is my kid going to be OK?' These are their babies. When you have fear and lack of trust, it's the worst combination. In that fear and lack-of-trust soup, all the anxiety, the worst intentions, the worst assumptions, come in."
Part of the district's outreach going forward includes a "parent-friendly curriculum page, so that it's one-stop shopping," Nolin said. "So parents can just go and see by grade level all the curriculum that's available. It will take me a little bit to get it done, but parents should know that."
Equity vs. Excellence
School districts have been a rolling out diversity, equity and inclusion initiatives for a few years now. And there's been controversy.
The debate has evolved into whether schools should focus on equity—giving those with harder backgrounds and circumstances a helping hand to level the playing field for more equitable education—or excellence, which would mean focusing on individual achievement and ignoring things like race, gender, socioeconomic background and other factors.
In March, there was a hearing in Newton to discuss a petition to form an advisory committee to set new academic principles and examine (and possibly overturn) DEI initiatives in Newton. That petition failed, but the battle lines were drawn.
"It's a tension," Nolin said, adding that she doesn't see equity and excellence as an either/or thing.
"Again, all the fear and the mistrust crept into that community conversation," she said. "I think there's a contingency of people who have the assumption or the actual experiences that tell them the quality of schools has declined. So there's that camp. You also have a camp in the middle that says that the decline is due to inclusion work and diversity work. And then you have a camp of folks who say we should have it all—we should have excellent schools and we should have diversity, and they go hand-in-hand,"
Nolin, who counts herself in that last camp, said she has work to do with those in the others.
"A lot of complex things can be true at the same time," Nolin said. "You can want better educational excellence and also want diversity. And I think that is the silent majority we're not hearing from."
Ward, Underwood and 'Lord of the Flies'
Last fall, a task force was formed to decide what to do with two schools—John Ward Elementary and Underwood Elementary—in the face of low enrollment numbers. Both buildings are more than a hundred years old and both schools have seen a drop in enrollment so steep it has impacted the education kids receive in those schools, according to the district website.
But one of the first moves Nolin made as superintendent in July was to close that task force. She said it's because they had no clear goal or authority and the whole effort went sour.
"They were studying what to do next, but it was sort of becoming 'Lord of the Flies' with that committee, because nobody had given them a charge," Nolin said. "So they had no authority, they were given no directive as to why they were meeting, so they were basically eating each other."
Nolin instead wants a district-wide study of the city's schools, projected enrollment in coming years and analysis of how that relates to the district's goals as a whole. And then, Nolin said, the School Committee will have to make the decisions about direction.
"It's really on your elected board, the School Committee, to say, 'We're going to do this with our portfolio of schools, whether we're going to close them or we're going to keep them. That's on them, and it's my job to get them the information they need to make a decision."
Contract battle
Nolin said the weirdest thing she's experienced in Newton is the intense contract negotiations between the Newton Teachers Association and the Newton School Committee.
In Newton, unlike elsewhere, the superintendent is barely involved in contract negotiations.
"All these years I've been in Natick, I've negotiated six contracts for all six unions—so 36 contracts with the Educators Association of Natick—and we've never had controversial bargaining. We only did collaborative bargaining," she said. "So this dynamic is completely foreign to me."
The first, again and again
Nolin has spent her life being a first. She's the first woman appointed superintendent in Newton and was also the first female superintendent in Natick. And she was the first of her parents' nine daughters to go to college.
As president of the New England Association of Superintendents and co-president of the Tri-County Superintendents Roundtable, Nolin said she mentors women in education and administration to help more women rise to the top of their school districts.
"Since the profession is mostly women, it's just been highly ironic that we only had male bosses for a long time," Nolin said.
Teachers and staff are set to return to school on Aug. 30, with students starting the 2023-2024 academic year on Sept. 5.